**Overall Progress(70%)**
(Last Update: December 11, 2014)
Engine(94%)
Characters(76%)
Enemies(10%)
Stages(69%)
Music(100%)

90% Sonic
90% Sally
90% Bunnie
45% Knuckles
95% Espio
80% Tails
35% Amy
85% Cream
20% Honey
40% Nack
15% Shadow
95% Blaze
80% Marine
95% Barby
5% Julie-Su
25% Nicole
65% Mina
85% Rosie
10% Manic
80% Sneak
25% Elias
20% Tiara
60% Mecha
80% Sally-Bot
90% Sir Charles
65% Gamma/Beta
20% Antoine
10% Scourge
95% Lupe
25% Shade

95% Knothole Villiage
95% The Great Forest
90% The Dark swamp
90% Ironlock Prison
100% Weeping Willows
90% Golems Grove
75% Treetop Towers
80% Boulder Bay
85% Mystiful Mines
75% Great Canyon
75% Rustic Railroad
55% Island of Nimbus
75% The Great Jungle
75% Temple of Maga
90% The Great Unknown
30% Sky Fleet
70% Floating Island
95% Dragon's Nest
70% Lower Mobius
90% The Junkyard
75% Robotropolis
50% Head-Quaters
25% Sky-spy
30% Doomsday Project
15% Astroid Belt
15% Mobotropolis
70% Rainbow Valley
40% Chao Gardens


"Knothole, home of the Freedom Fighters." This first town stage acts as a safe haven for players. No enemies
exists within town areas.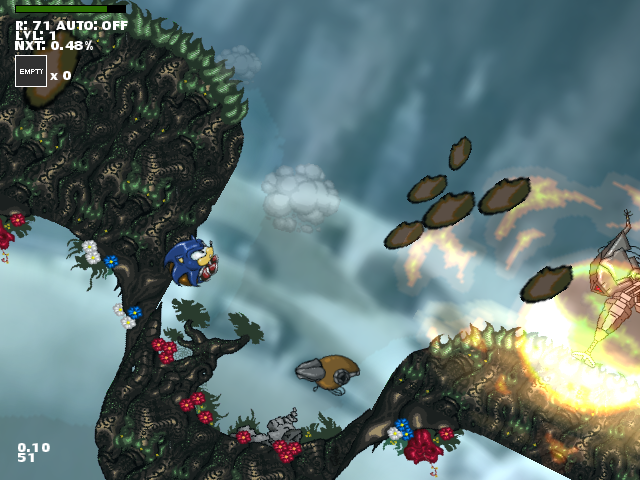 "The Great Forest provides the best safety from Robotniks forces. It's shaded tree cover allows Freedom
Fighters enough security to build their homes."



"The Dark Swamp has is forbidden to explore by Freedom Fighters. The entrances have been borded up
and closed off for the protection of wandering Mobians. The swamp was once a town similar to Knothole,
but it's now a ghost town infested with bots and Robians. It's dark past is rarely mentioned and better off forgotten."



The Weeping Willows is located within the Dark Swamp. This was heart of the town that is now a nest to mindless Robians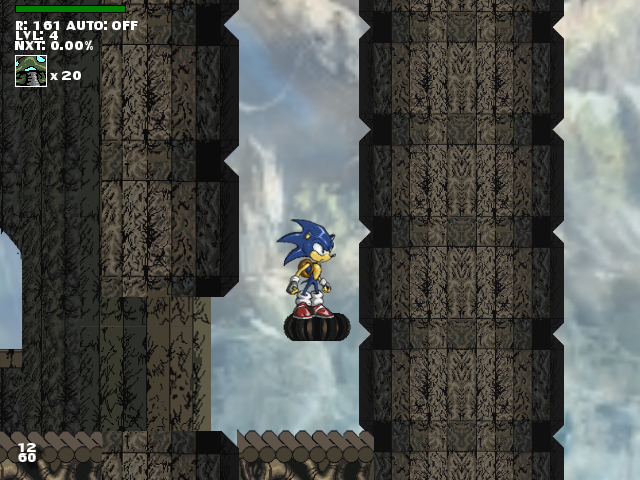 "Just above the Weeping Willows, the Treetop Towers are safely built far above the dangers of the swamp.
A mysterious presence watches those who pass through it's path."



"Ironlock Prison was once a once a castle for royalty, and later converted into a maximum security
prison with even dark dungeons below. In these days, it is just an abandoned ruin which links the swamps
and the groves."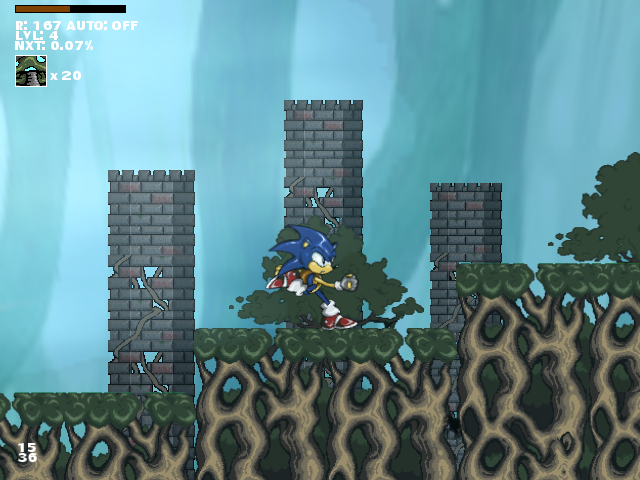 "The Golem's Grove is home to a Mobian 'Wives-tale' about gigantic iron beast that fell from the sky
and a troll that loves to play deadly pranks on lost travelers. This tale is told by elders to young Mobians to
remind them of danger of wandering too far into the forest alone."



"WIP"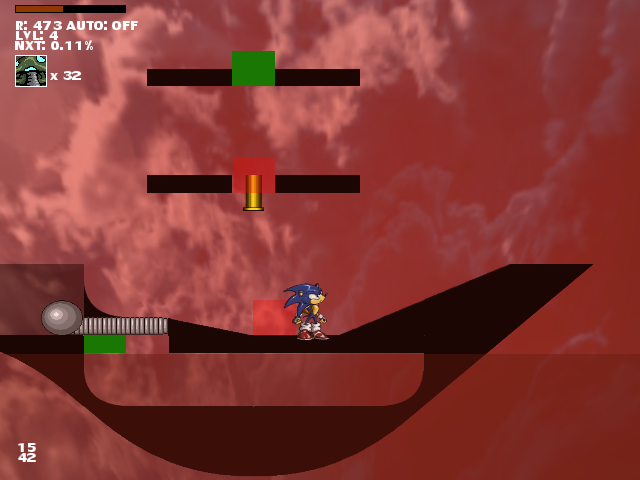 "WIP"



"WIP"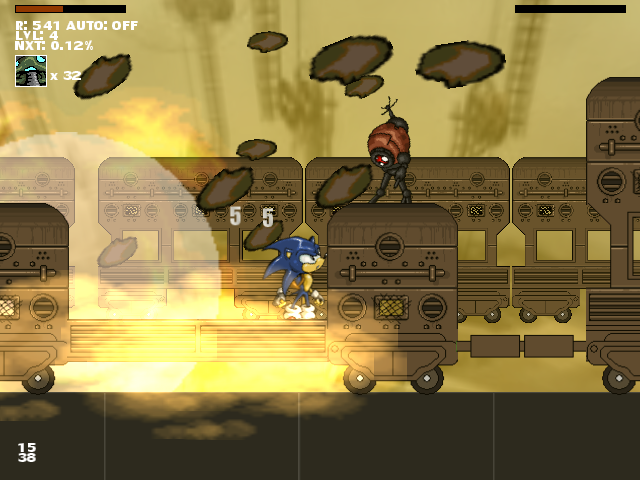 "WIP"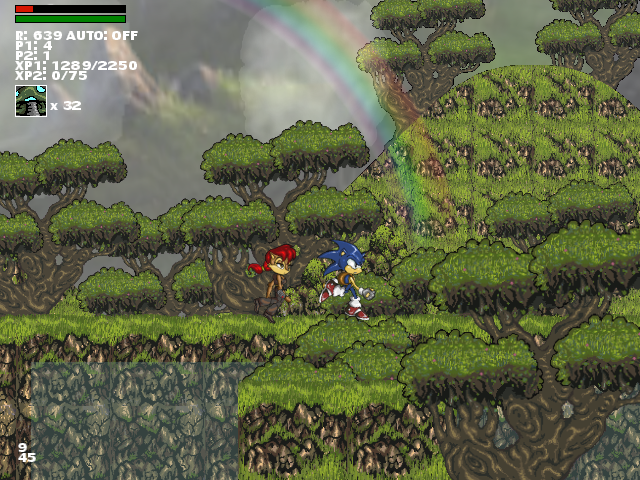 "WIP"



"WIP"



"WIP"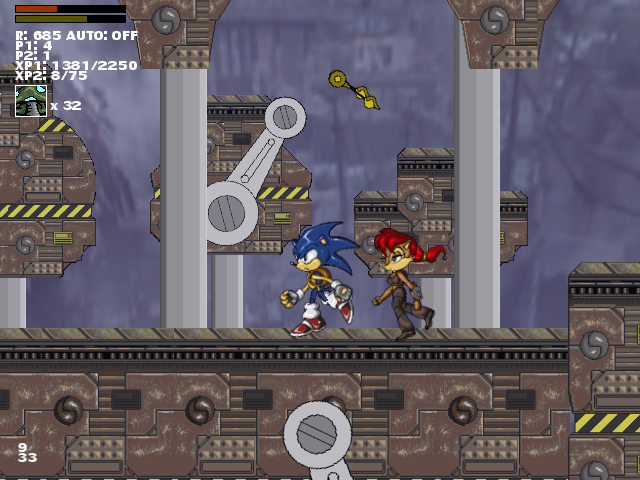 "WIP"

****************************
ENEMIES
****************************



Surbot





Turret





Moto-bug





Spy Shooter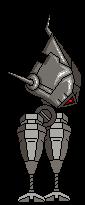 BiStep





Wreath





WarpBot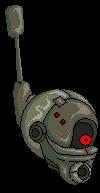 SpiderBot





Robian(Alice)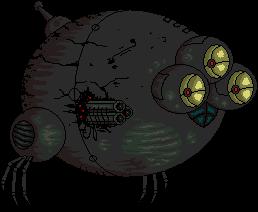 BugPod

Enemies to come(Names are temporary):
Swatbot
Combot
Ironlock SwatKnight
Ironlock Batbot
Flammer BiStep
Swamp Slime tongue
Robian (Parker/Heavy)
Robian (Johny/Demolition)
Robian (Chip/Flammer)
Robian (Tucker/Sniper)
Grove Tunnle-bot
Grove Sawbot
Grove Robian(Faster)
Grove Arrow shooter
Treetop Buzz Bomber
Treetop Tengu
Treetop Pecker
Boulder Bay Drillbot
Boulder Bay Jackhammer
Boulder Bay BiStep(Missles)
Boulder Bay Copter
Mines Ratbot
Mines Groundhog
Mines Bomberbot
Glo-bot
Sky Fleet Dicebot
Sky Fleet Mask
Sky Fleet Timebomb
Missle Turret
Orbital
Ranbow Valley Robian(Samurai)
Swatbot Rocketeer
Skullbot
Astroid Seeker


Bosses to come:
Swamp Piranha
Kat(Robian)
EggRobo
Sallybot
Spiderbot Queen
Terropod Catcher
Railbot
Nasty Hyenas
Swatbot Tank
Robian Dragon
Ratbot Mutant
Samurai Robian(Heavy)
Apache Chopper
Stealthbot
Mecha Sonic
Snively Kintobar
Robo-robotnik
WarpBot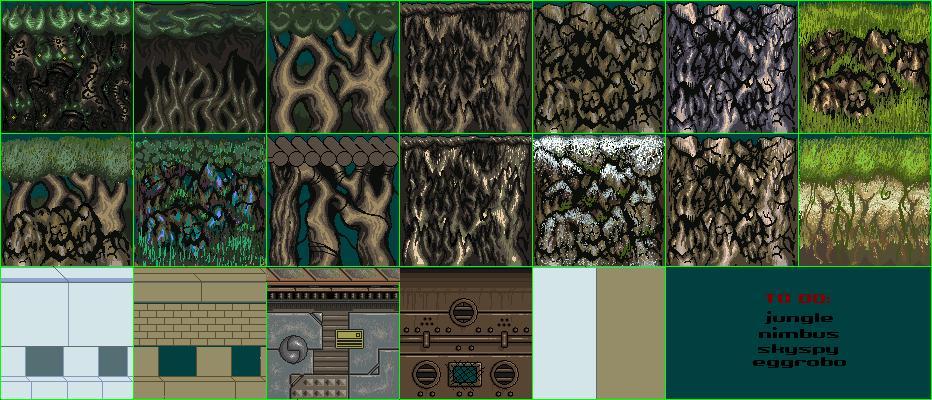 1800


****************************
DOWNLOAD VERSION 3.5 (Dragon's Nest)
****************************


****************************
****************************




Disclaimer:
All characters and world concepts belong to Sega/Archie. This is only a fan-game created to further entertain those ideas which were not originally created by myself.
***Credit to Damizean and McdIzzY for use of their "Game Maker Sonic 360º engine (2nd release)"***
***Credit to rivosaar for use of vee_effekt.gm6***